For Growth and Scale plan vendors.
PayKickstart offers vendors easy ways to pay out affiliates automatically and manually for their related sales commissions.
Instant payouts occur if all below apply:
The customer purchased via PayPal
The vendor has approved the affiliate for instant commissions.
The affiliate has enabled to receive commissions via PayPal and also enabled instant commissions for their PayPal account.
The affiliate added their PayPal account AND approved instant commissions PRIOR to the referred sale being processed.
Instant commission payouts will process instantly and can be viewed in the history section: https://app.paykickstart.com/admin/payouts/history
---
Automated Payouts: PAYPAL ONLY
Automated Payouts occur if all below apply:
The customer purchased via PayPal.
The affiliate has PayPal enabled to receive commissions.
The affiliate is set to delayed by the vendor.
​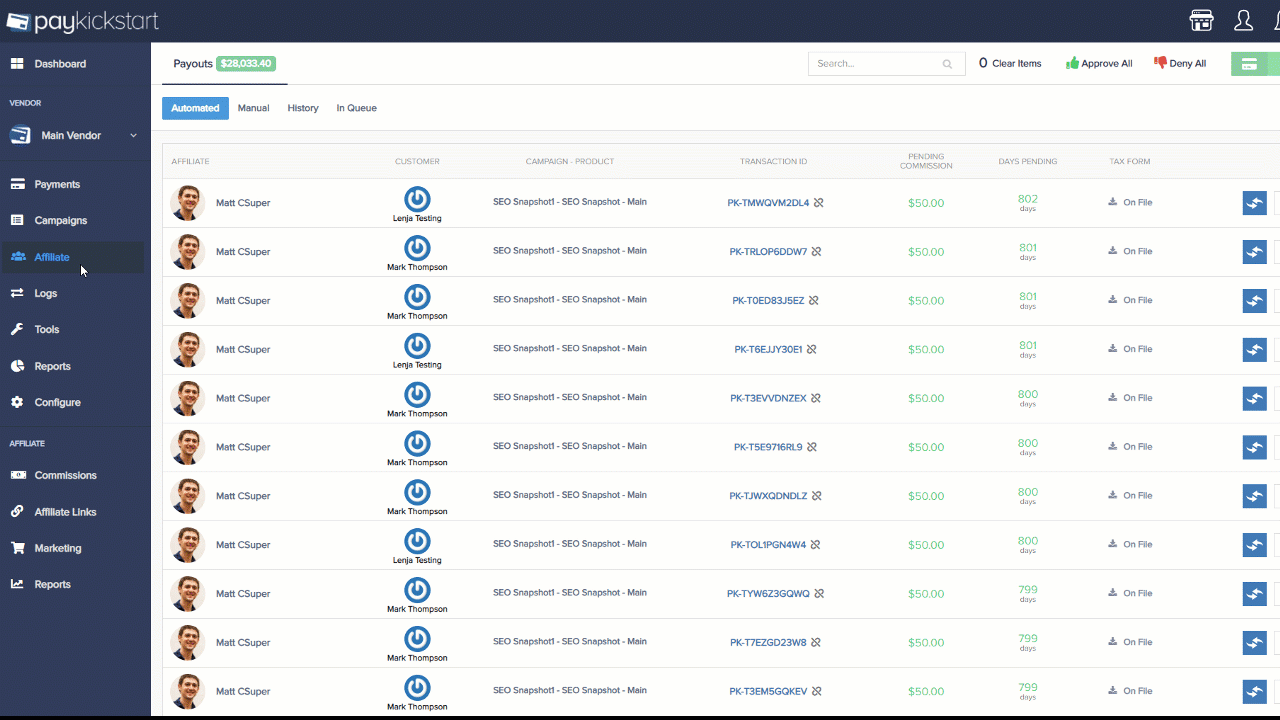 ​
---
Manual payouts occur if any of these apply:
The customer purchased via another payment gateway other than PayPal. IE, Stripe, BT, Auth.net, EPD or CONNECT
The affiliate is using a commission payment method other than PayPal.
The affiliate did not add their PayPal account prior to the referred sale being processed.
​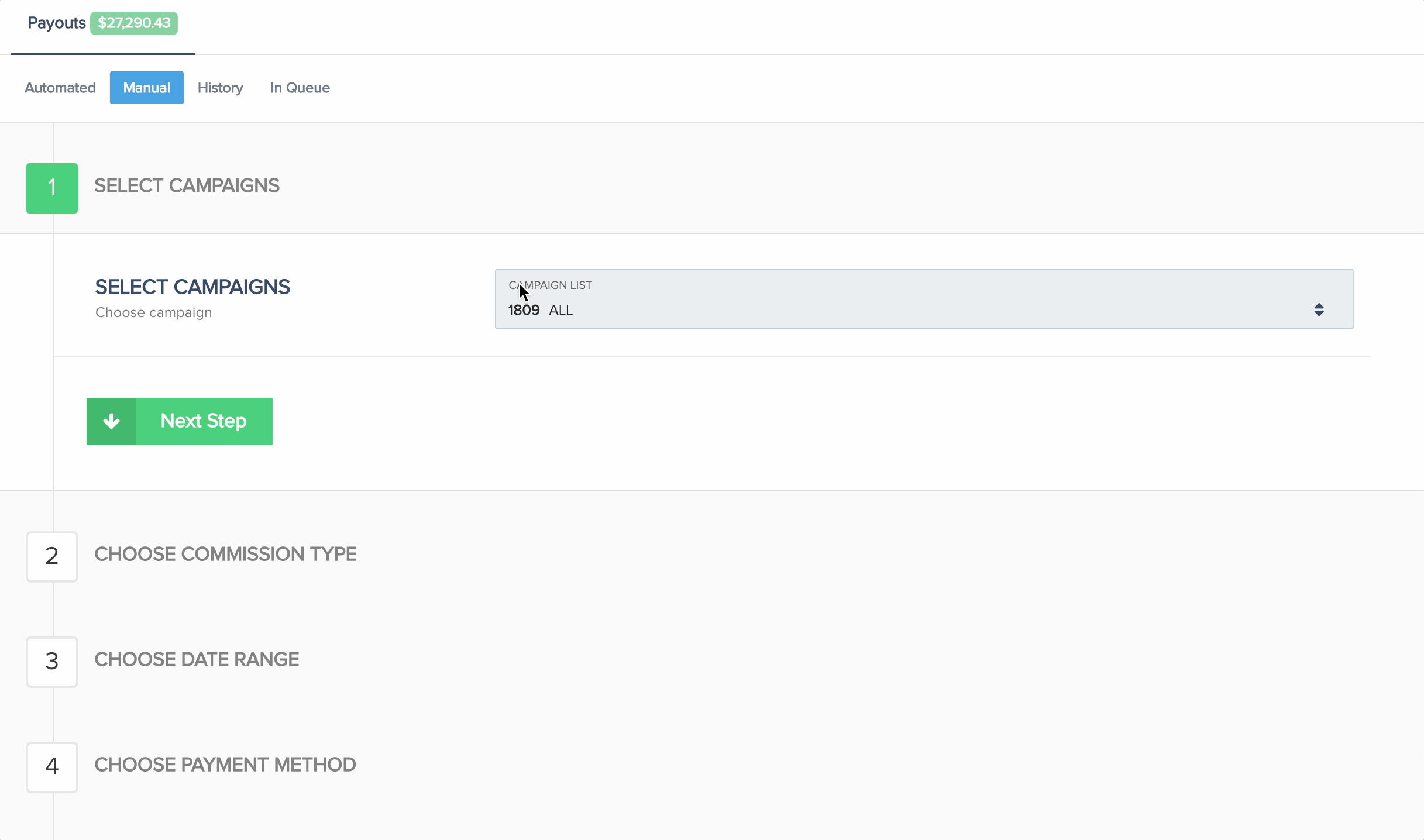 After filtering and approving the related manual commissions, you will be required to download a CSV file.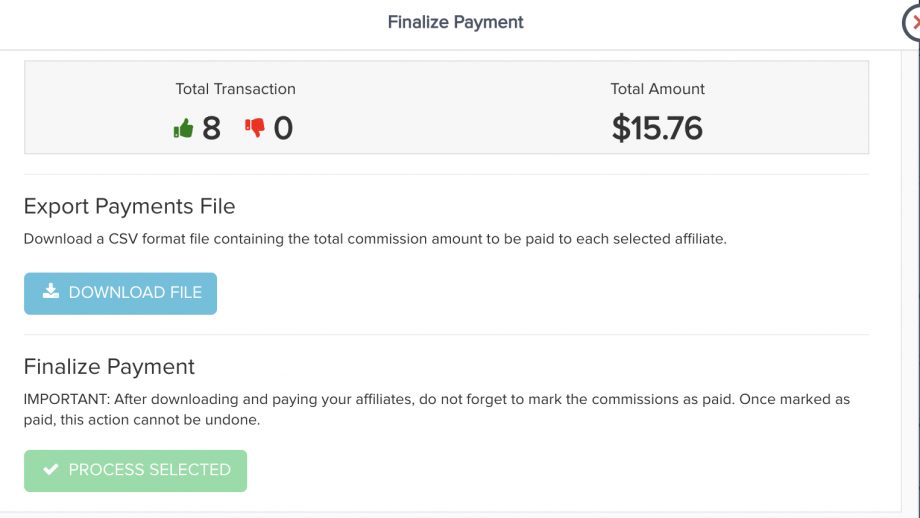 After downloading the Manaul commission payout file, you can click to process so the related commisisons are marked as paid in PK.
You can then use the download file to finish manually paying out these processed commission records.
*IMPORTANT: You must manually send commission payments for all manual commissions.
Manual commissions are NOT paid to affiliates automatically.
*NOTE: If sending commissions to PayPal, they offer a Mass Pay option vendors can use to upload the CSV to Paypal to finish sending the commission payments: https://support.paykickstart.com/knowledge-base/sending-affiliate-commission-payments-via-paypal-mass-pay-file/
*NOTE: If sending commissions to Coinbase, this article covers how to send payments: https://help.coinbase.com/en/coinbase/trading-and-funding/cryptocurrency-trading-pairs/how-to-send-and-receive-cryptocurrency
IMPORTANT NOTES:

Affiliate commissions DO NOT factor taxes if tax was charged for the transaction.
Commissions only factor the main transaction price(Excluding tax)

PayKickstart has a number of fraud detection features built-in to minimize the chances of fraudulent commissions.  However, as a rule of thumb, it's important to always be mindful of the affiliates promoting your campaigns and to monitor the commissions on a regular basis, looking for anything that seems suspicious or unusual – especially before paying out commissions.

All affiliate commissions will be in USD, even if your product is using another currency.
After an affiliate commission has been marked approved and processed for a transaction, vendors can view the related transaction to see a timestamp of the affiliate commission payout.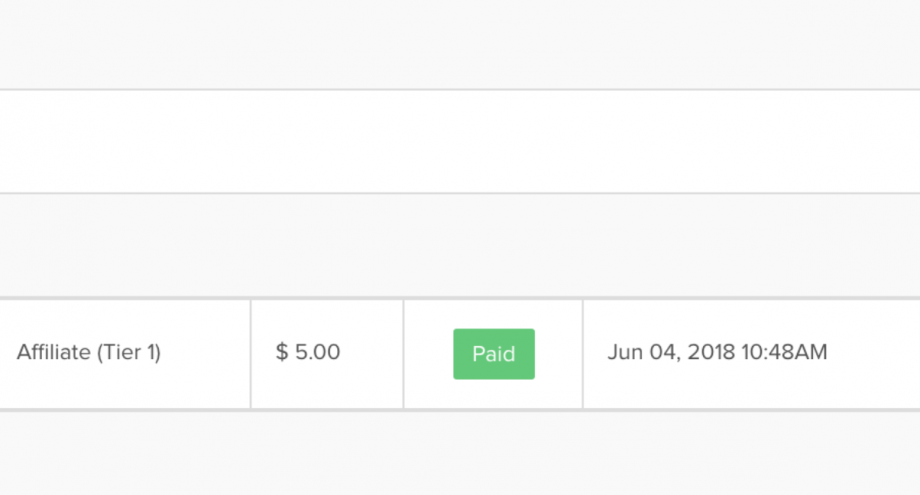 More Resources: