PayKickstart supports lead tracking, also known as CPA (Cost Per Acquisition).  This allows vendors to pay affiliates commission ($) for every lead they refer – great for pre-launches, webinars or any lead generation page.
To create a Lead Tracking Campaign…
Step 1:  Go to Campaign settings.
Step 2: Scroll towards the bottom of the page where it says "Lead Tracking" and click the "Add" button.
Enter a unique name for the lead campaign.  Enter the landing page / optin URL.  Select if you would like all affiliates or select affiliates to be able to promote.  Specify a first tier and optionally a second tier commission.  Select which email service your leads should be added to.  Optionally you can add a lead to an upcoming webinar and/or fire an IPN URL at the same time.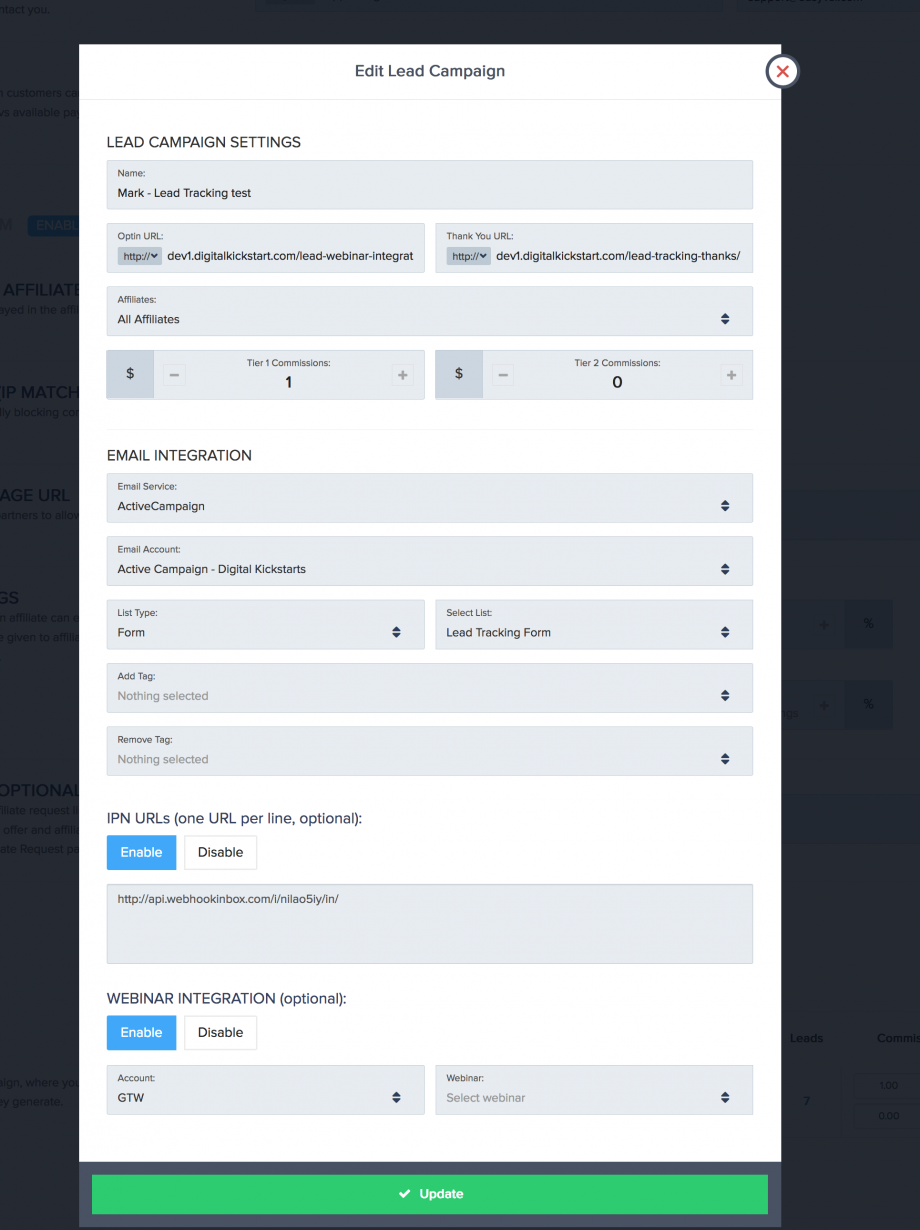 Step 3:  Click on the "Conversion/Tracking" button.
Add the Lead Submisson Form to your Optin Page.  This will be used to add new subscribers to your email list/PayKickstart and track the number of visitors each affiliate sends to your lead generation page.
Then select a tracking/validating method – Webhook URL, Conversion Pixel, or API call.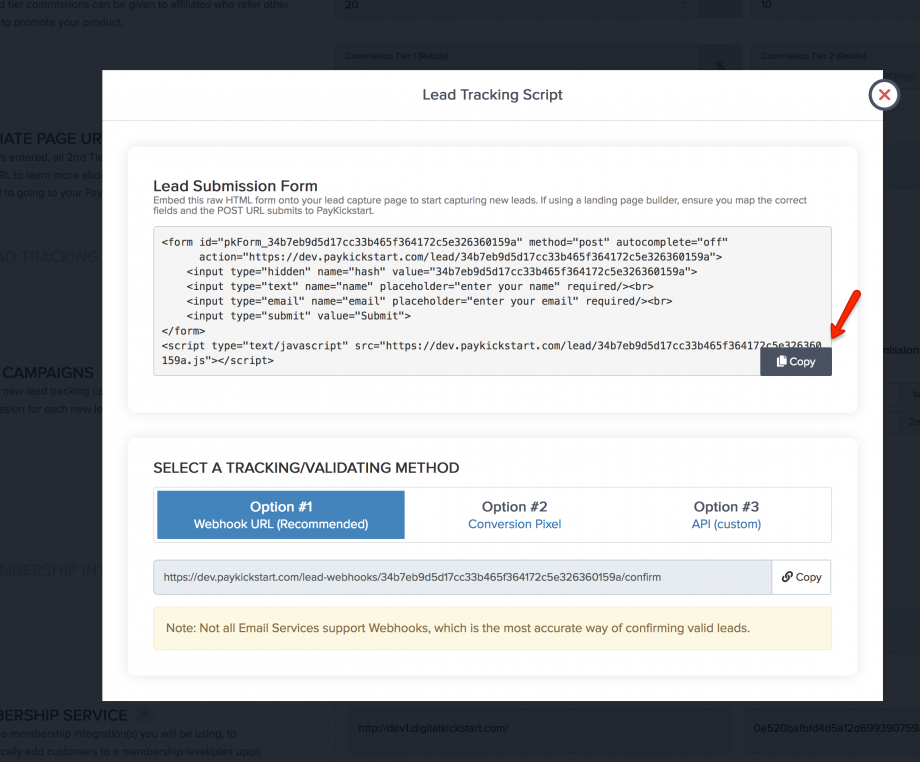 Please Note: 
The lead submission form is a basic name, email and submission button form.
You can use CSS to design the lead form to match your page as seen in the example photo below.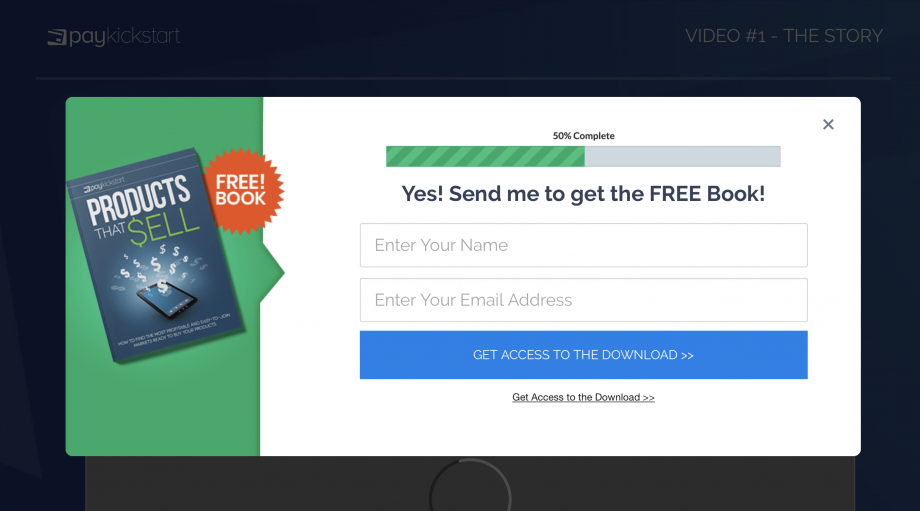 Note: Not all Email Services support webhooks, which is the most accurate way of confirming valid leads.
Here are instructions for how to setup the PayKickstart Webhook URL in Your Email Autoresponder:
ConvertKit (No Action Needed – Done Automatically)
GetResponse
1) Log in to account
2) Click on your photo on the top right side
3) Click on "Integrations and API"
4) On the opened page click on "Callback"
5) Enable "Callback enabled"
6) Select "Subscribes"
7) Set your webhook url
8) Click on Save
If you are using Conversion Pixel, place the pixel on the thank you page (the page the lead will land on after optin in).
Please also note that regardless of which tracking method you use, PayKickstart has a number of fraud detection features built-in to minimize the chances of fraudulent leads.  However has a rule of thumb, its important to always be mindful of the affiliates promoting your lead campaign and to monitor the leads on a regular basis, looking for anything that seems suspicious or unusual – especially before paying out commissions.
Step 4:
Affiliates will now have a lead campaign link in their affiliate accounts to use.

You can view all of your leads by going to Payments >> Leads in the vendor navigation on the right side.  You can also see if the lead is "Confirmed" and if they have converted to a "Buyer".
Confirmed Lead: Once the lead submits the lead form, they will receive an opt-in confirmation email via the 3rd party email platform you have integrated with the lead campaign. Once the lead clicks this confirmation link, they will be marked as "Confirmed" in your PayKickstart account.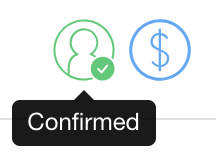 Step 5:  Paying out affiliates for their referred leads is handled the same way that you payout normal commissions.
See "How to Handle Affiliate Commission Payouts" for more information.