Transactions:
A history of all transactions can be found under Payments > Transactions.

From here, you can view all transactions, sort by customer name, purchase date, customer email, campaign, product, price, payment method, and affiliate (if applicable).    You can also filter your results based on the products sold, affiliate (if applicable), and date range.
After filtering your search results, you can export all transaction information into a CSV file.
Refunding a transaction:
There is an icon located in the Actions section of the Transactions page.  You can refund the individual transaction by clicking that, and then confirming the refund.   Alternatively, click the "More Details" icon, which opens more details about the individual transaction.  You can also refund from that screen.
Subscriptions:
Each subscription will contain individual transactions associated with them.  To control the subscription itself, go to Payments > Subscriptions.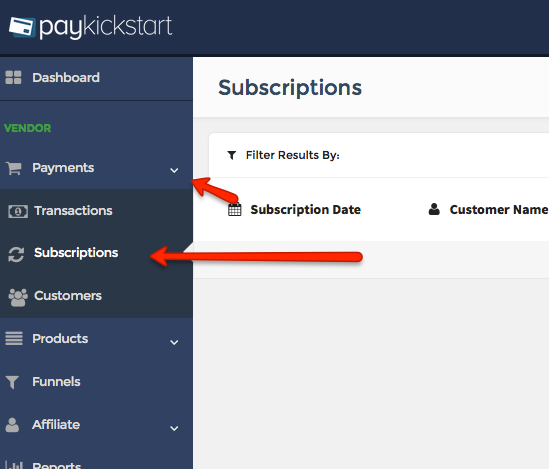 This page will show a list of all of the subscriptions created within your Vendor account.

Manage Subscription allows the vendor to up/downgrade the customer's subscription to another recurring product.

Change billing date allows the vendor to move the customers next billing date.

Cancel will cancel the customer's subscription.  You will have the option to cancel now or when the current billing date ends.

Subscription details allow the vendor to see more information related to the customer's subscription.
To view individual transactions for each subscription, click on the details for the individual subscription.  You can also cancel the subscription from this page, or by viewing the individual transactions you can refund one of them.
Like the Transactions Page, Subscriptions allow for multiple filtering and sorting options for easy viewing and accessing of data.