Sometimes vendors need to reconnect and re-sync their ChartMogul integration and data for various reasons.
If you have been advised by our support team or just need to re-sync your ChartMogul integration, please follow the instructions below.
Step 1:
Delete CM integration in PK
You will go to https://app.paykickstart.com/admin/integrations
Select the "Analytics" section and delete the current ChartMogul integration from your PK account.

Step 2:
Go to your ChartMogul account and delete the PayKickstart data source.
Data sources example:

This action will remove everything (invoices, customers, plans) from the ChartMogul account.
Please see documentation before deleting https://help.chartmogul.com/hc/en-us/articles/203299462-How-can-I-fully-erase-and-re-import-my-data
Step 3:
Connect a new CM Integration with PK and let the data synchronization finalize: https://support.paykickstart.com/knowledge-base/integrating-chart-mogul/
PLEASE NOTE: It's best to clear your browser cache before reconnecting to ChartMogul.
After connecting you will receive a letter about your number in the Sync Queue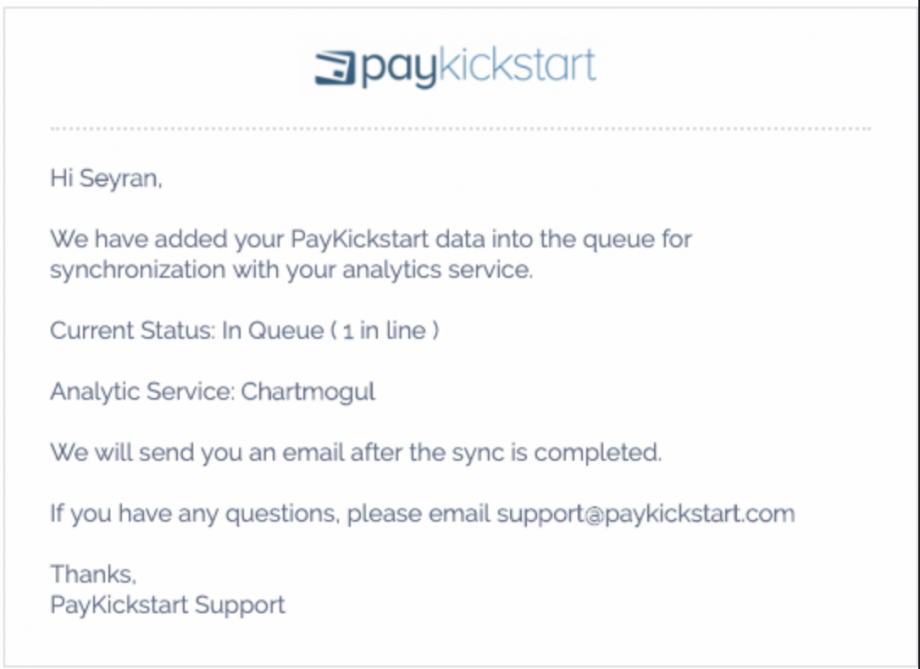 You can also find out your Sync queue number at any time by clicking on the button via the integration section of your PK account:

After connecting the new ChartMogul integration and the synchronization completes, PK data will now be sent to ChartMogul again.