IMPORTANT: Disputes and chargebacks are not dealt directly within your PayKickstart account.  Rather, all disputes and chargebacks need to be dealt directly with the Payment gateway or merchant account.
You should NOT process a refund from INSIDE PayKickstart, while a dispute/chargeback is pending with the payment processor or merchant.
We FIRST, recommend trying to work directly with the customer to try and have them remove the dispute or chargeback, so that you can process their refund through our system.  This will properly debit the appropriate parties who got paid (Vendor, Affiliate, Partner/JV Contract).
Updating the Status in PayKickstart
You have the ability to update the dispute/chargeback status of the transaction inside PK.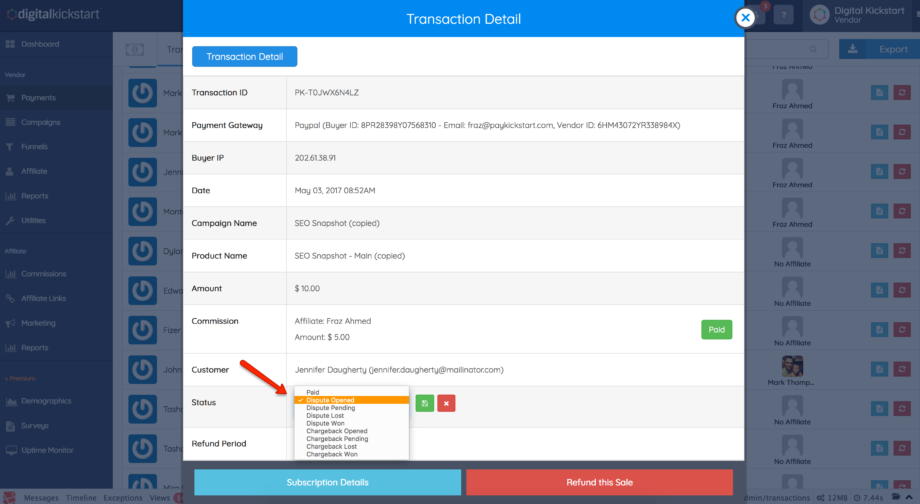 If you are using Stripe as your gateway, any disputes and chargebacks will be updated in PayKickstart automatically, without you having to do anything.
All other gateways are unfortunately a manual process, but still manageable in PK.  When a new dispute/chargeback comes in, you can update the transaction status – both visible to the vendor and affiliate.
If the customer does not remove the dispute or chargeback, here is how to handle each Payment Gateway/Merchant so that you do not pay additional fees or be responsible for partner commissions:
Paypal:
Login to your PayPal account, then go to Tools >> Resolution Center.
Find the transaction and click "Respond", then close the dispute by refunding the transaction.
That's the only way we can ensure that all commissions/fees that you've paid out are returned back to you. We unfortunately have zero control over this, as this limit is set by PayPal. If you skip this step, you'll lose your money.
After you have refunded the transaction in Paypal, you then can process the refund in PayKickstart.  PayKickstart will then return the funds paid to your affiliate/partner, back into your Paypal account.
For more information about how Paypal handes Disputes/Chargebacks please go to Paypal Disputes and Chargebacks.
Stripe:
Login to your Stripe account, then go to Disputes.
If you see a refund button, you can refund the purchase before it turns into a Chargeback and you won't get charged the $15.00 Stripe fee.
If it's filed as a Chargeback, unfortunately there is no way to remove the fee, except to fight the chargeback.  If you win, they will return the funds and the Stripe chargeback fee.
Any Stripe dispute will be updated for both the vendor and affiliate to see, as "Disputed".  Only if the customer removes the dispute, will it go back to "Pending" status.  If the customer wins the dispute, the status will update to "Disputed – Lost" and the commission will be deducted from their pending balance.
If the affiliate/partner has already been paid before the dispute/chargeback occurs, the status will show "Paid, Disputed/Chargeback – Lost" and the affiliate will have a negative commission applied to their pending commissions owed to make up for the previously paid commission.
For more information about how Stripe handles Disputes/Chargebacks please go to Stripe Disputes and Chargebacks
Braintree:
For more information about how Braintree handles Disputes/Chargebacks please go to Braintree Chargebacks.
Authortize.net:
For more information about how Authorize.net handles Disputes/Chargebacks please go to Authorize.net Chargebacks