A​rchiving a Campaign:
Instead of deleting products, campaigns, and funnels – the Archive option was introduced and is the recommended option for managing your no longer used Campaigns and Products.
A​rchiving campaigns will disable the campaign and will have the following effects:
​Disables all future purchases from Customers
Changes to the Campaign or Products are no longer allowed
Customers can no longer update their billing details for existing subscriptions
A​ll existing checkout URLs related to the products within the archived Campaign will be disabled and will no longer function
E​xisting customer subscriptions will continue to remain active for customers unless cancelled by the vendor or customer.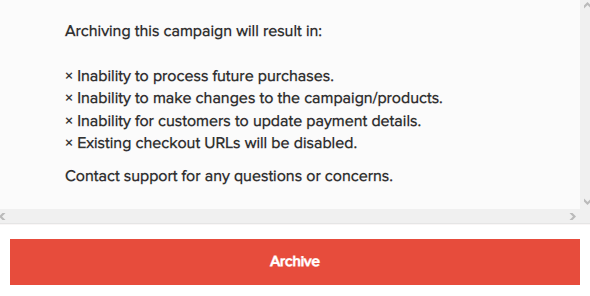 O​nce archived, the campaign can be returned to the Active status by filtering for Archived Campaigns: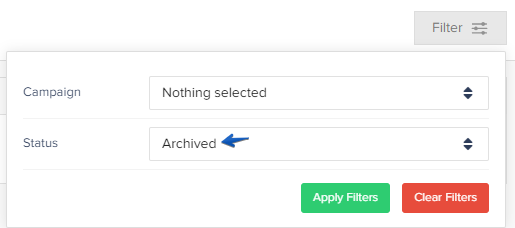 ​Clicking on the Un-Archive Campaign button will return the campaign back to the active status:
P​lease Note: We do not recommend Deleting Products as this option would completely delete the product at this time. For now, archiving is only available for the entire Campaign.
---
Please see more information about what an effect deleting Products and Funnels would have:
Deleting a Product
If you delete a product – the subscription would still remain active for the customer, but you would not be able to Filter for it within the Payments > Transaction/Subscription section, you would need to be looking up the customer directly in the search bar.
We recommend disabling products instead of deleting them.

---
Deleting a Funnel
If you delete a Funnel – all checkout links and checkout forms related to that funnel would no longer function and would return a 404 error, as the checkout links/forms would no longer exist for those products.

Customers visiting your sales pages would not be able to make the purchase via those checkout URLs, embed forms, or pop-up widgets any longer.