There are 2 ways to change your PayKickstart Account password.
OPTION #1:   Login to your account.  Click the top-right menu.  Select "My Profile".  You can change your password from that page.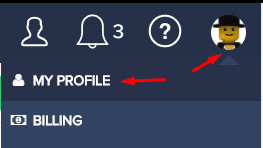 OPTION #2: If you forgot your password and cannot login, please go here .
You will receive an email with the reset password instructions.
Note:  changing your password by either of these two options will only change your main PayKickstart account password.  It will NOT change the password of your support desk account (if applicable). These two systems work independently of each other.