This tutorial will guide you through the process of integrating Wishlist membership service to your campaign.
Step 1: In your PayKickstart dashboard via the app, click on 'Products' in the left-hand side-bar.
Step 2: In the 'Products' drop-down, select 'Campaigns' to open your current list of campaigns.
Step 3: Select the campaign for which you would like to add a membership integration, and press the edit icon on the right-hand side under the column labeled 'Action'.
Step 4: When you open up the campaign you've selected, scroll to the bottom section titled 'Membership Integration', and you'll see a subheading labeled 'Membership Service'.
Step 5: Click the drop-down box for Membership Service and select 'Wishlist' as your service to integrate.
Step 6: A new information box will pop up under your selected service asking for additional information. For Wishlist, you'll need a URL and API Key. To find this information, follow the steps below:
URL: This is your blog's URL. Make sure to include "http://" in front of the link. (Example: "

http://www.domain.com or http://domain.com

").

API Key: To find your API Key, enter your WishList Member setting and click on the "Miscellaneous" tab. Near the bottom of this page you will find your API Key.
Step 7: After you have added Wishlist Integration at the Campaign Level, you will want to go into each Product and select Wishlist and the membership level they should have access to upon purchase.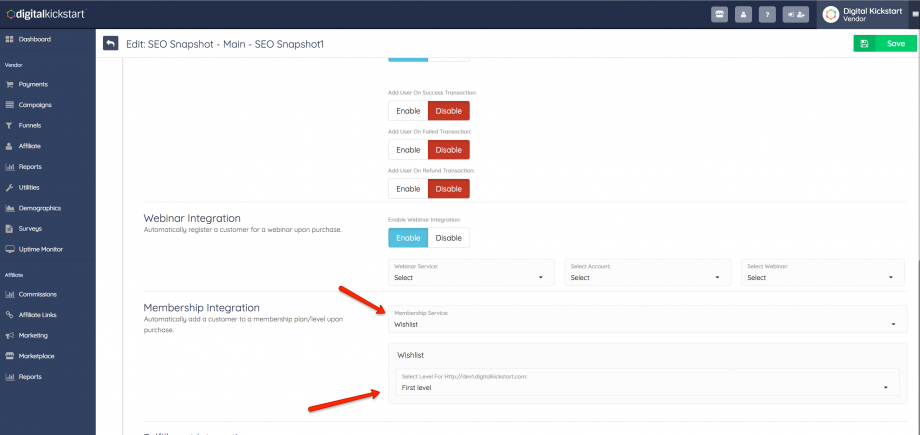 NOTE: If you're running Wordfence security, it will block the incoming Paykickstart request to Wishlist by default. To unblock this, make sure that you do not block incoming request with POST received with blank user-agent and referer.