This tutorial will guide you through the process of integrating MemberMouse membership service to your campaign and products.
Step 1: In your PayKickstart dashboard via the app, click on 'Campaigns' in the left-hand side-bar. You will be taken to the campaign section where you can choose the campaign you would like to integrate with. Once located, select the blue edit campaign button.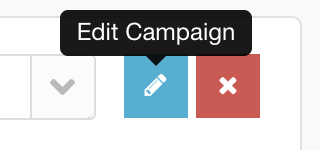 Step 2: In the 'Campaign settings', please scroll down until you see 'Membership Service'
Click to enable the Membership integration.

Step 3: Select MemberMouse
Step 3b: A new information box will pop up under your selected service asking for additional information. For Membermouse, you'll need a URL and API Key. To find this info, do the following:
URL: This is your blog's URL. If you haven't linked up MemberMouse with your WordPress (or other blogging) site, follow MemberMouse's tutorial HERE
API Key: 

To find your API Key, go to your MemberMouse menu. Open Developer Tools and click on the API Credentials tab. On this page, you can

see your API URL and create and manage API credentials

.

Secret Key: This will be the password next to the API key.


Step 3c: Once this information has been entered Select 'Save'
Step 4: Now you can Integrate on the product level.  Please go to the Campaign section, then locate the Product settings for the product you would like to integrate with a MEMBERMOUSE plan and select the blue 'edit product settings' button.

Step 5: When you open up the Product settings you've selected, go to section 3 of the product settings(Integrations) and locate the section titled 'Membership Integration', and you'll see a subheading labeled 'Membership Service'.


Step 6: Click the drop-down box for Membership Service and select 'MemberMouse' as your service to integrate.
Step 7: Now you can select a "Free" Member Mouse plan level.
If the product is related to a bundle of Member Mouse levels, you can optionally select a bundle.
IMPORTANT: The member level in Membermouse must be set as a "Free".
Paid levels in MemberMouse would require the payment to go through MemberMouse itself, and since Paykickstart has already processed the payment, this cannot be done.

Step 8: Once you've selected the correct Member Mouse plan/level press 'Save'.
Now, your campaign and product(s) will be integrated with MemberMouse to automatically add customers to a membership level/plan upon purchase.