To set up GoToWebinar within your PayKickstart account, follow these steps…
Step 1:  You will need a Consumer Key from GoToWebinar.   Go here: https://goto-developer.logmeininc.com/
Step 2:  Sign in with your GoToWebinar account information.
Step 3: Click on "Add a New App".   You can name this new app whatever you would like, but we suggest naming it something like "PayKickstart" so that you know what service you're integrating that app with.

Step 4:  Fill out the information to create the app.
Be sure to select "GoToWebinar" under Product API.
Application URL should be:  http://app.paykickstart.com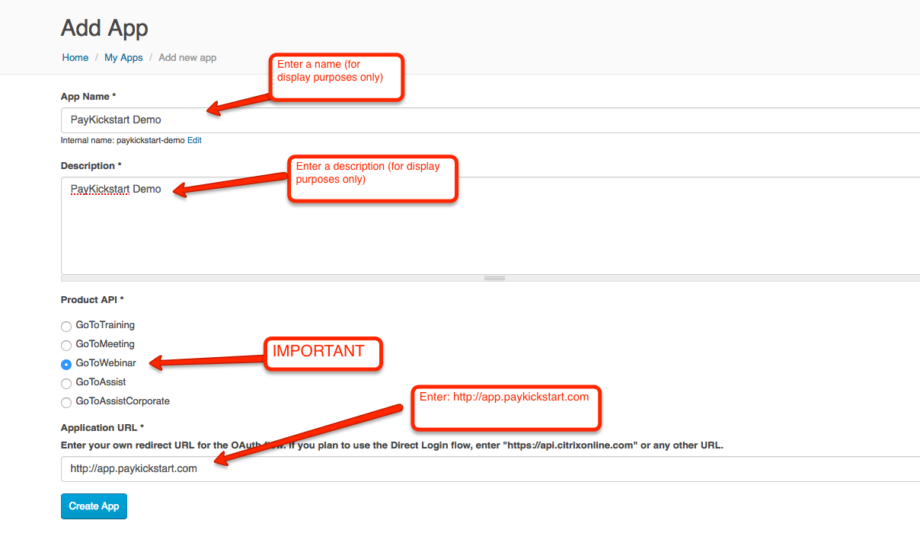 Step 5: Click "Create App".
Step 6:  Get Your Consumer Key and Consumer Secret.   Click on your app, and you will be able to view your consumer key.
Example:

Step 7:
Inside your PayKickstart account, go to Configure > Integrations.
​
Step 8:  In the integration section, select "Webinar" and then "Add a Webinar Integration".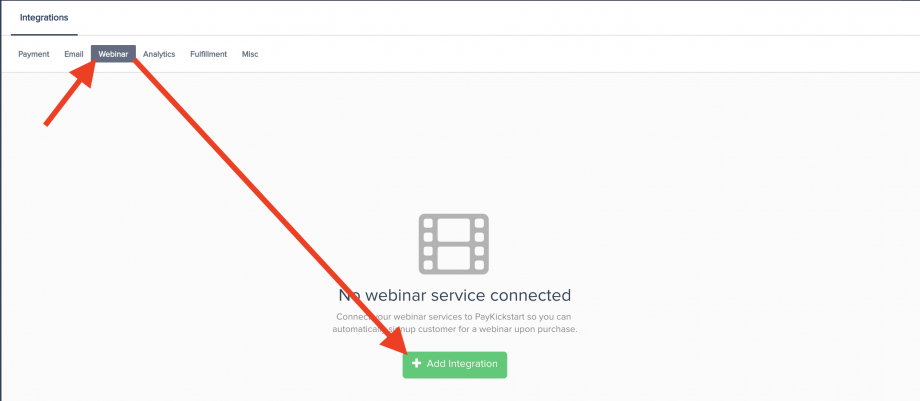 Step 9:  Select GoToWebinar from the integrations dropdown.
Enter a unique display name.
Enter your GoToWebinar consumer key
Enter your GoToWebinar consumer secret
Select connect.
You have now integrated GoToWebinar on a platform level and can integrate with specific products.
Step 10: To automatically register a new customer to a webinar, you need to go to the Edit Product settings for the specific products you want to integrate with
​
Step 11: In the product settings, go to section 3(integrations) under Webinar Integration. 
Select GoToWebinar
Select the specific GTW account
Select the specific webinar for the product.
Save the product settings.

You have now successfully integrated your GoToWebinar with your account and product. Customers who purchase the product will automatically be added to the specified webinar.
To complete this integration with other products, please repeat steps 10-11.
NOTE: API Limits & Requesting Increase