Hi PayKickstarters,
We want to thank our awesome clients for being engaged and some providing feedback on pricing. While this update is much needed to ensure the quality, reliability and growth of PayKickstart, we've decided to update the transaction fees to new rates as stated below.
Thank you for all you do, and we look forward to future growth of your business and our partnership with you.
---
Pricing Update – [Updated Details and Table below]
We will not be increasing the monthly subscription amount.
We are also eliminating "overage fees". This way, you will not be increasingly penalized for growing your revenue.
However, effective June 5, 2023, we will be adding a transaction fee percentage to the transactions that are run through your account.
If you are using a third-party payment processor like Stripe, PayPal, etc., we will bill 0.50% to 1.00% of the transaction value at the end of each month depending on your current plan.
If you are using PK Connect, our in-house payment processor, the amount will only be 0.35% to 0.50% depending on your current plan. 
For very high volume Enterprise accounts, there are reduced fees.

This is very similar to many subscription management tools and e-commerce platforms like Shopify and several other subscription tools that have even less functionality than PayKickstart offers. However, our fees are still lower than many of those platforms.
---
Why are we changing the pricing?
There are several reasons for this change, including, but not limited to:
Increasing cost and complexity of compliance and regulatory requirements like PCI, GDPR, payment processing fees, additional card verifications, fraud protection, etc.
Investment in infrastructure, reliability, and stability of the PK platform.
Investment in the product to drive the features you want and have requested.
Dedication to bringing the content and community to help you grow your business.
---
New and Upcoming Features
Our promise to you is that we'll always listen to our community for product additions/changes, and we'll always look for ways to help grow your business. We are very excited about the upcoming releases later this year that will provide advanced metrics and reports (take a peek here), along with easier product and checkout options!
To summarize, the new pricing beginning June 5, 2023, will be:
No change to the monthly fixed subscription plan amount
Eliminate overage fees for going over the volume in your plan
Addition of transaction fee amounting to 0.35% to 0.50% in addition to regular processing fees if using CONNECT™. If using a third-party payment processor like Stripe, PayPal, Authorize.net, etc. the transaction fee will be 1.00% for Starter plan, 0.75% for Growth plan, and 0.50% for Scale.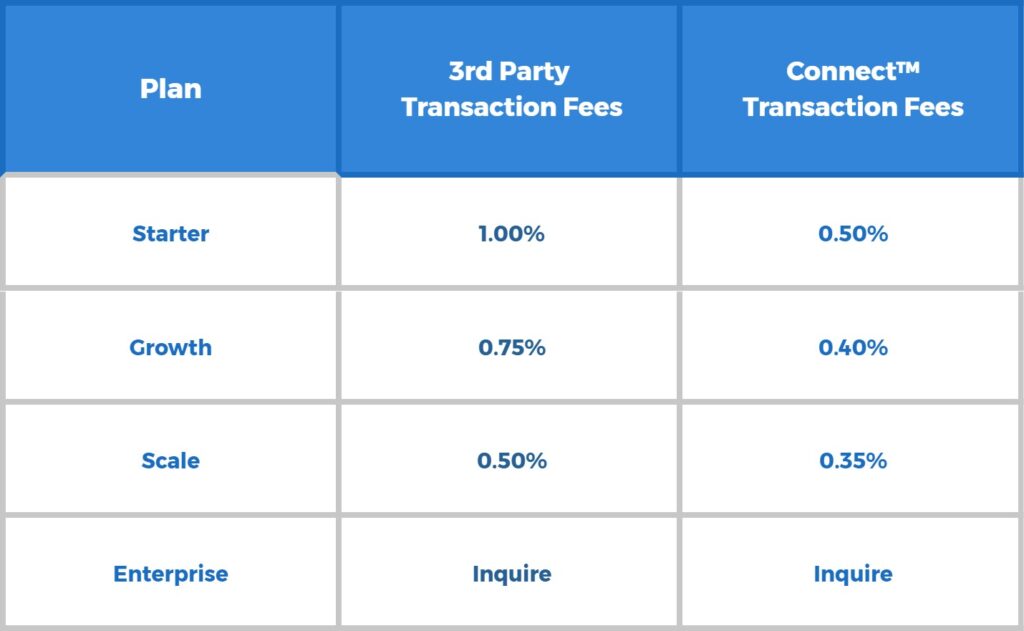 *In addition to the platform's standard payment processing fees.
---
Thank you for your continued partnership!
Sincerely,
Jared Schneider, Mark & Matt, and the PayKickstart Team
P.S. If you'd like more information on the reduced fees utilizing PK Connect, you can check out the knowledge base article here to get started: https://support.paykickstart.com/knowledge-base/integrating-and-using-connect-by-paykickstart-to-process-payments/
For Grandfathered Legacy plans,
please refer to your separate notification via email.